Over the weekend I made a skirt for our Christmas tree out of old neckties. As some of you already know, or may have guessed, I am slightly obsessed with making things out of neckties. So when a friend of mine asked if my Christmas tree had a tie skirt, first I responded with, "No, now why didn't I think of that?" And secondly, "I need to make one." That was last year and time slipped away from me. But this year I was ready. Thanksgiving weekend I sat down and had some quality time with my sewing machine. And since I had so much fun making it, I thought I would share with my readers how I made this fun little tree skirt. It took a few hours to complete. But if you are not as picky as I am about arranging your ties in the proper order, it may take you less time.

Here is what you will need:

About 25-30 gently used neckties
2 skinny neckties
Denim needle
Coordinating thread - you'll need a lot so buy the big spool!
1 package of double wide bias tape in a color to match your ties.
Tailor's chalk or fabric pencil
Measuring tape
And of course a sewing machine

1. Measure and cut your ties to their desired length. Make sure you measure your ties from the corner point up, not the middle point. And be sure to add a few inches to allow for mistakes. You can always take away, but can't add!! Be sure to save the pieces you cut off. You can use these later.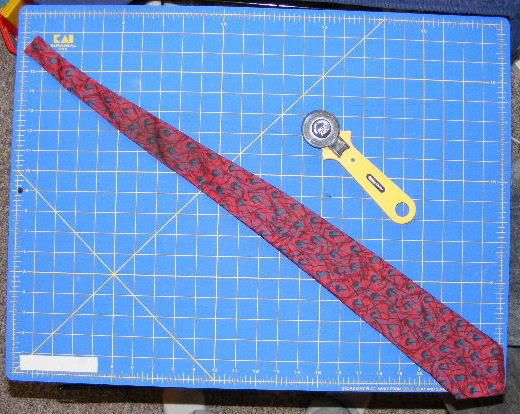 2. Set your sewing machine to the widest zig-zag stitch you have. I recommend a triple zig-zag if your machine has one. Otherwise a regular zig-zag will work.

3. With the ties right-side up, lay your ties side-by-side making sure the corner points are even, center them under your needle and stitch them together. Do not pin them and do not force them. Let your machine do all the work.




4. Repeat this step until all your ties are sewn together. Then check the fit by laying it under your tree. You can add a few more ties if you need to.

5. Once you have enough ties to fit around your tree, you'll need to cut them so they are all the same length. I do this by folding my skirt in half, measuring each tie from the side points up, and marking the length with my chalk or pencil. You should have a dotted line across the top edge of your skirt. Cut along this line.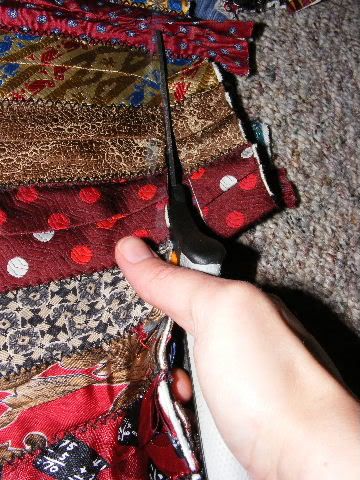 6. Now you want to stitch across the top edge of your skirt. You can use a zig-zag, overlock or straight stitch. This stitch just keeps the ties from pulling apart and stretching too much.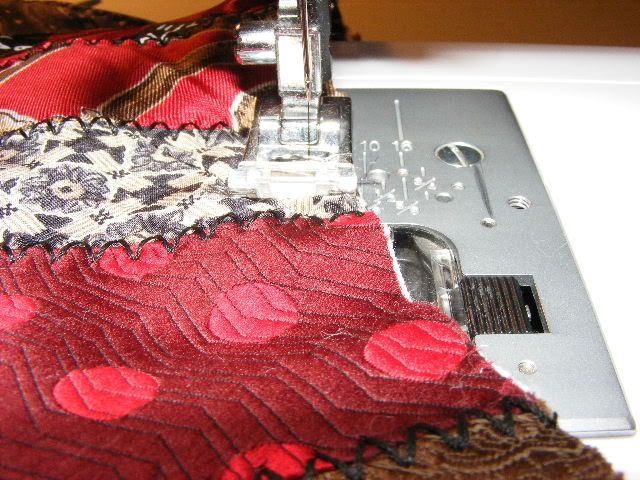 7. Next unravel you bias tape, open it up and place the raw edge of the skirt in between the fold of the tape. Pin in place and stitch along the inside edge of the tape.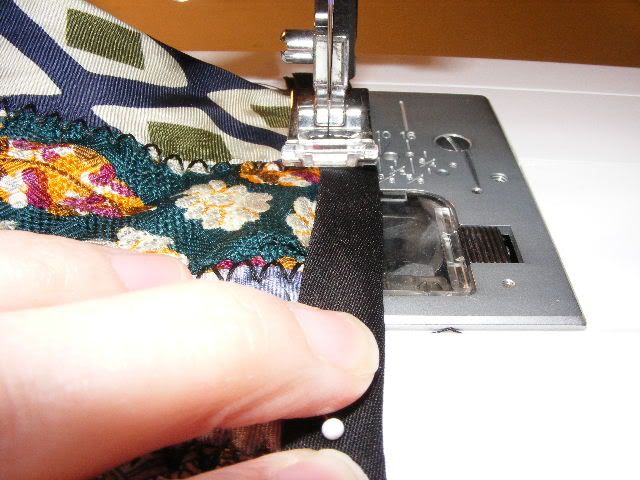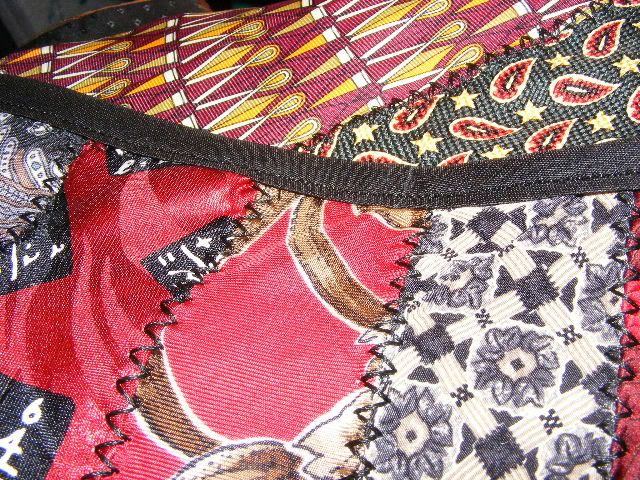 8. Now we are going to make the top tie of the skirt. Take your two skinny ties and place one on top of the other with right sides together. Line up the points of the skinniest end and with a straight stitch, stitch them together just under the side points.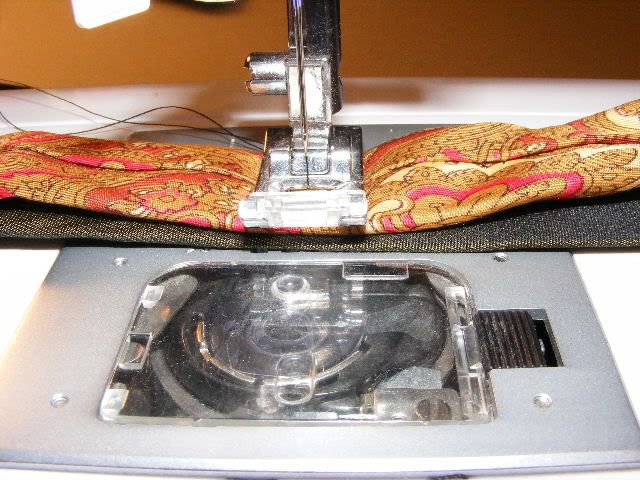 9. Just to the outside of your straight stitch, stitch again using an overlock or zig-zag stitch. Trim close to the stitch line.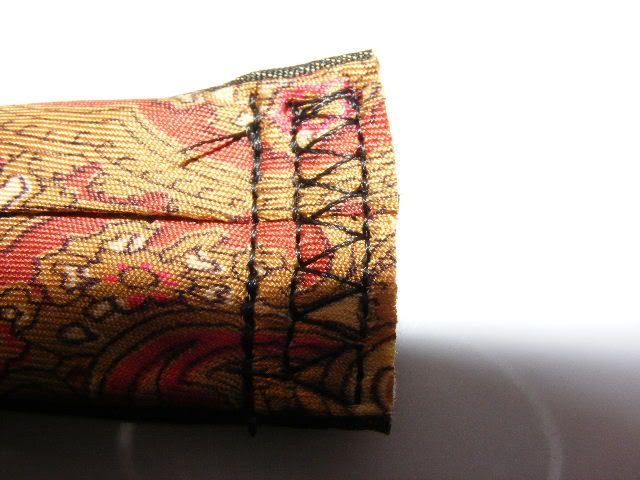 10. Iron seam to one side and stitch in place.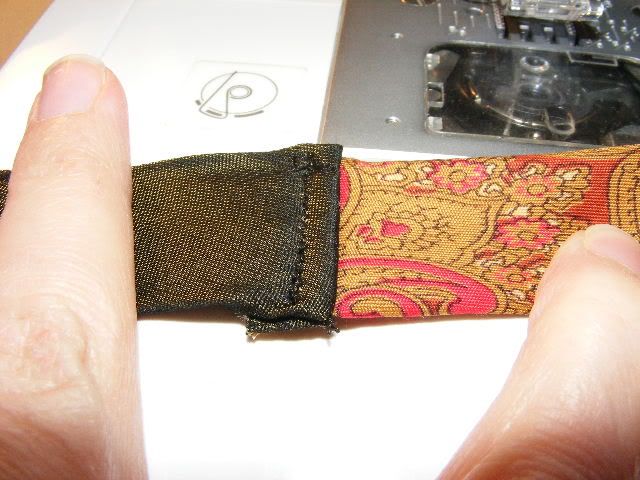 11. Along the top edge of your skirt, where the bias tape is sewn on, find the center. This is where you will place the seam of the tie you just made. Continue pinning this in place, making sure that you extend the tie slightly over the top of the skirt. Stitch in place on the bottom and top edge.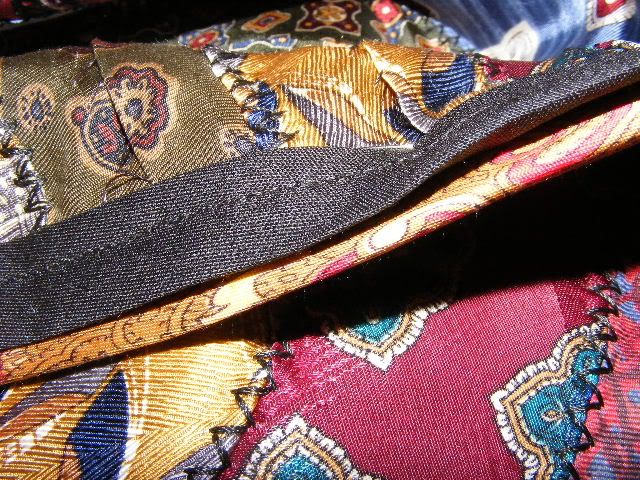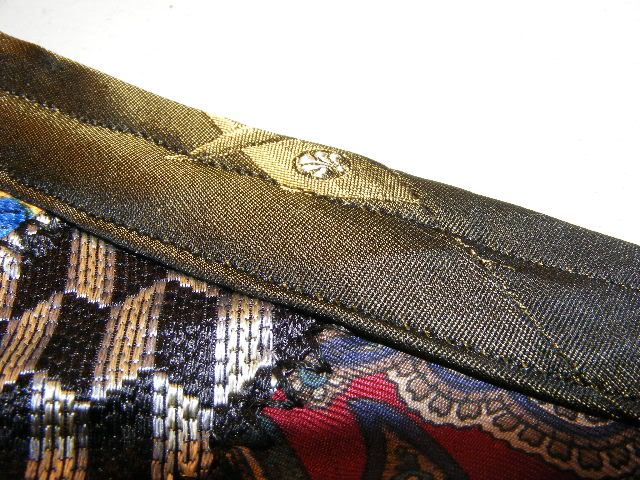 12. If you want, you can take two of the left over pieces of ties and make another tie to secure the skirt around the tree. Simply cut them to the desired length. Make sure they are both the same size. Then with an overlock or zig-zag stitch, sew along the raw edge of each tie. Trim close to the stitch line.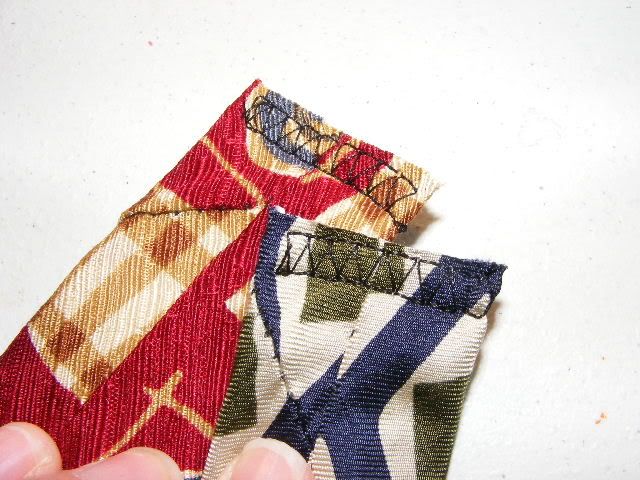 13. Measure down from the top of the skirt where you want each tie and stitch in place.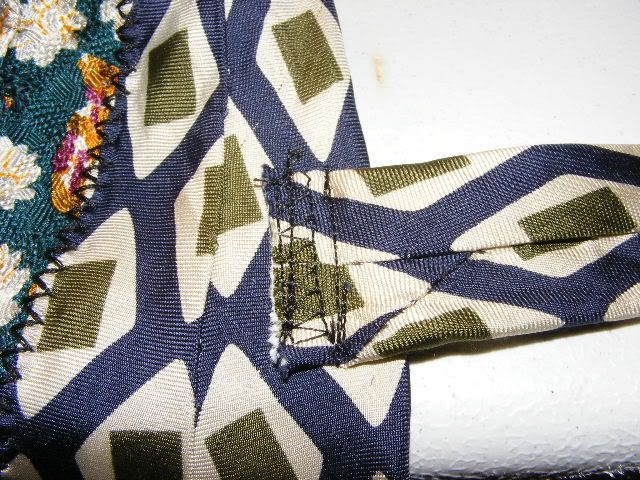 14. You now have a one-of-a-kind tie skirt for your Christmas tree.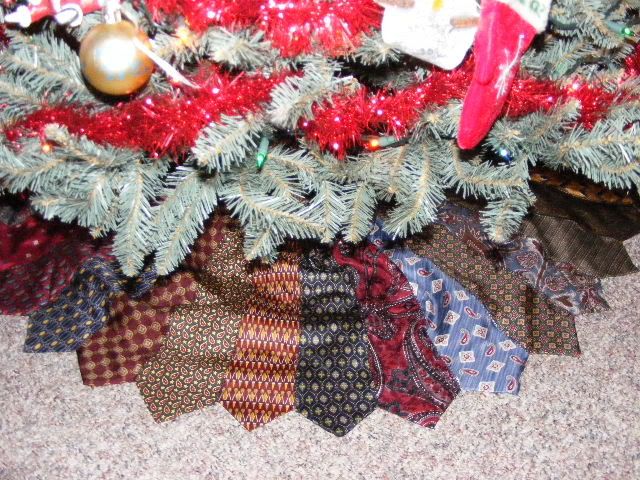 If you have any questions, or need some help along the way, feel free to email me or leave me a comment with your question.

And for more projects using neckties, check out some of my ebooks at youcanmakethis.com.

Happy sewing!!